Best Portable Restrooms in Amarillo, Texas
Porta Potty Types
The quantity and type of porta potty will depend on the size and type of event you plan to host. For example, if you're looking at a porta potty for camping, you're probably not ordering more than a couple of portable toilets.

On the other hand, let's say you're hosting a large event like a wedding or you're the manager of a large construction site. It's your job to adequately provide the attendees or workers with ample options for restrooms, whether that is indoor or outdoor.

Luckily, our services at Amarillo Porta Potty cover a large range of rental options that will handle any type of gathering you have in mind.
Single Unit Porta Potty
A single unit porta potty is great for things such as residential construction projects or camping. Typically, these events only entail a few people and therefore can be easily covered by one portajohn.
More times than not, our customers choose to complement a single unit porta potty with a sink or sometimes even a shower.
A porta potty with sink rental or a porta potty with shower option is an awesome choice for customers because it adds that extra component of cleanliness 😉
Portable Restroom Trailers
Especially at dirty and chaotic areas like construction sites, it's always nice to provide your workers with the best cleaning amenities. Call us today if you're interested in one of these combos and we'll gladly hook you up with our deals.
If you're looking for luxury porta potties in the Amarillo area, trust me…you're gonna want to look into a restroom trailer.
These bad boys are equipped with running water, sinks, and sometimes even a shower…basically everything a traditional bathroom supplies you with, minus the wheels!
A porta potty trailer is great for higher end events such as an event gathering like a wedding or festival. You can wow your guests with these porta potty and sink combos at your next gathering.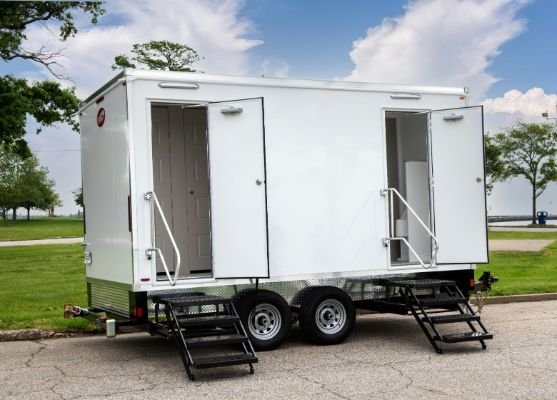 Portable Shower Trailers
Hard work can sometimes get dirty, and the last thing you want to do after a long day is sit in your own grime and dust while you wait for the evening traffic to blow over.
That's why sometimes, it's best to invest in a shower trailer so that guests or workers can cleanse themselves before going back home.
If you're interested in getting in touch with us over the phone to learn more about our services or how much it would cost for a rental, please call us and a member of our team will be in touch!